Where There's A Will, There's A Way

A Will Smith Foundation Founded 2007
Where There's A Will, There's A Way is a not-for-profit organization founded by National Football League player Will Smith. Focused on leading youth to achieving greatness, Where There's A Will, There's A Way aims to motivate, educate and provide opportunities for women and youth.
Having developed his athletic skills while attending T.R. Proctor High School in Utica, New York, Will has been steadfast in his efforts to serve the community whenever possible. Will has remained active in his home community throughout his college career at The Ohio State University and currently as he continues to play in the NFL. As an All-American at The Ohio State University, first pick by the New Orleans Saints in the 2004 NFL draft, as well as Pro-Bowl Defensive End, Will has established a network of friends both on and off of the football field. Will's desire is to give back to the community by taking advantage of the benefits gained through the networks he has established.
In partnership, Will has teamed up with past coach/teacher and close friend Jonathan Bryant, and local leader and educator Emil Streeter. The three established Where There's A Will, There's A Way in the spring of 2007. The first mission on the organization's agenda was to provide an immediate service to high school athletes living in the greater Utica area. Despite the difficulties involved with overcoming the geographic obstacles associated with working and living in different parts of the country, the three men set out to organize a football camp/combine event to be hosted at Proctor High School, Will's alma mater.
Having been successful in bringing a service of value to such a needy area, Where There's A Will, There's A Way has committed to making the event annual and expanding it to become the premier athletic event for the Mohawk Valley. The organization has expanded its board to include new member Paul Filetti, a former coach and friend of Will's. With the aggressive goals set by Will and his board, Paul's willingness to work at ensuring their successful achievements couldn't have come at a better time.
The future of Where There's A Will, There's A Way is bright. With so many individuals clearly focused on identifying and satisfying the needs of athletes from the greater Utica and central New York area, that brightness is certain to carry over and shine upon the community this organization has allocated to benefit from Will's lead.
December 20, 2011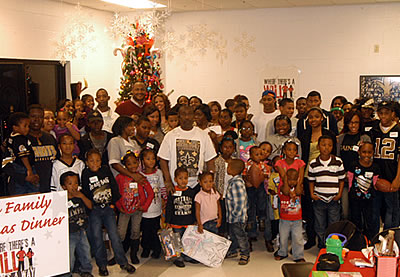 "The Smith Family Christmas Event" "In partnership with Kingsley House, Will and Racquel Smith hosted their annual holiday gift giveaway at the Saints Facility December 20th. Over 60 children received gifts, a holiday meal, a tour of the saints facility and a chance to win raffle items. This is the 4th year the Smiths have held this event. This event was made possible by the numerous volunteers and many sponsors that matched the Smith's personal donation including; Target, The Allstate Foundation, Acme Oyster House, Fore!Kids Foundation, Coldstone Creamery Riverbend, Wendy's Restaurant, NOLA Nails, Fantasy Nails, Zico Coconut Water, Mike Mckenzie's Foundation."
To see more pictures of the event CLICK HERE.
November 15, 2011

Will and Racquel recently supported BridgeHouse/GraceHouse as the presenting sponsor of their annual Celebrity Waiters event featuring NFL retired players and New Orleans Saints. Funds raised from this event will continue to support the mission of Bridgehouse/Gracehouse to help rebuild lives of men and women with dignity, honor and respect. For more information related to this organization please click on the logo below.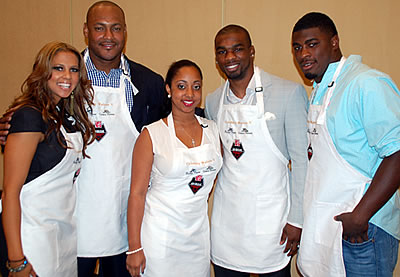 Christmas 2010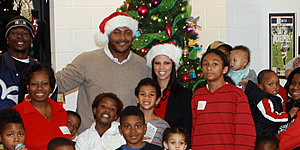 "Haiti Relief"

"Giving Back in New Orleans"